Regular price
$388.50 USD
Regular price
$481.00 USD
Sale price
$388.50 USD
Unit price
per
Sale
Sold out
*This product is only available for whole sale customers.
Rosacea Skin Health System
Contains:
Hyaluronic Honey Cleanser - 4oz
Hyaluronic Mineral Hydrator - 30ml
Transdermal C Serum - 30ml
Biomimetic Mineral Mist - 30ml
Omega 6 Healing Cream - 30ml
Rosacea most often shows up as redness on the cheeks and nasal area, with obviously dilated blood vessels and inflamed skin. It sometimes also involves oily skin, blemishes and pustules that can form and the skin around the nose can become thickened, often resulting in a misdiagnosis as acne. While the only way to cure rosacea is by addressing the underlying, internal cause of the inflammation (often due to diet), using the proper topical products to calm and nourish the skin can help reduce flare-ups and inflammation. Truth Treatments Rosacea Skin System contains gentle cleansers and hydrators to calm and hydrate skin, Vitamin C and Omega 6 fatty acids to nourish the skin.
TOPICAL PROTOCOL:
CLEANSE: Gently massage Hyaluronic Honey Cleanser™ into damp skin using tepid water. Cleanse as needed
HYDRATE: Apply pea-sized amount of Hyaluronic Mineral Hydrator™ to face and neck morning and night. 
NOURISH AM: Combine 2 to 3 drops of Transdermal C Serum™ with a pea size amount of Omega 6 Healing Cream™ and 2 pumps of Biomimetic Mineral Mist™. Blend together in palm of hand to emulsify and then massage into skin. Use daily in the morning.
NOURISH PM: Treat and protect skin with Omega 6 Healing Cream™. Blend pea size amount of Omega 6 Healing Cream™ and 2 pumps of Biomimetic Mineral Mist™ in palm of hand and massage to face and neck at night. May also be used as a spot treatment as needed throughout the day, and to alleviate chapped lips.
COMPLEMENTARY PRODUCTS TO ENHANCE PROTOCOL:
AHA Energizing Mineral Exfoliator
Notes from Ben on Rosacea
Supporting Lifestyle and Nutritional Protocol

While it may seem like a skin condition, in reality, rosacea is a circulatory and immune system condition that only shows up on the skin superficially. It is most directly linked to the digestive system and most rosacea patients know that they need to avoid certain foods. Rosacea patients, typically middle-aged women and patients with fair skin are often dealing with infections from the H pylori bacteria and also contend with deficiencies in digestive enzyme as well as stomach acid. Occasional rosacea is associated with oily skin and acne lesions that should also be addressed as digestive issues. Other possible rosacea symptoms include stinging, burning and sensitive skin, patches of roughness and enlarged skin pores. Consider adding the following protocols to your daily routine: 
1. Eliminate problem foods such as grains and flour, dairy, soy, peanuts, and other legumes.
2. Use probiotics, multiple strains and so-called good bacteria in fermented vegetables. 
3. Enjoy fresh, vegetable juices (with the fiber), select only veggies that do not create digestive distress. 
4. Use digestive enzymes, pancreatin, bile salts and apple cider vinegar with all meals. Start meals off with "bitters" and bitter veggies like dandelion greens, radish, arugula, and kale.
5. Use nutritional supplements featuring all 90 essential nutrients.  Pay particular attention to: 
NAC 

Selenium 

Zinc/Copper

Vitamin C 

Vitamin B5 along with B-complex

Vitamin K

Bioflavonoids
View full details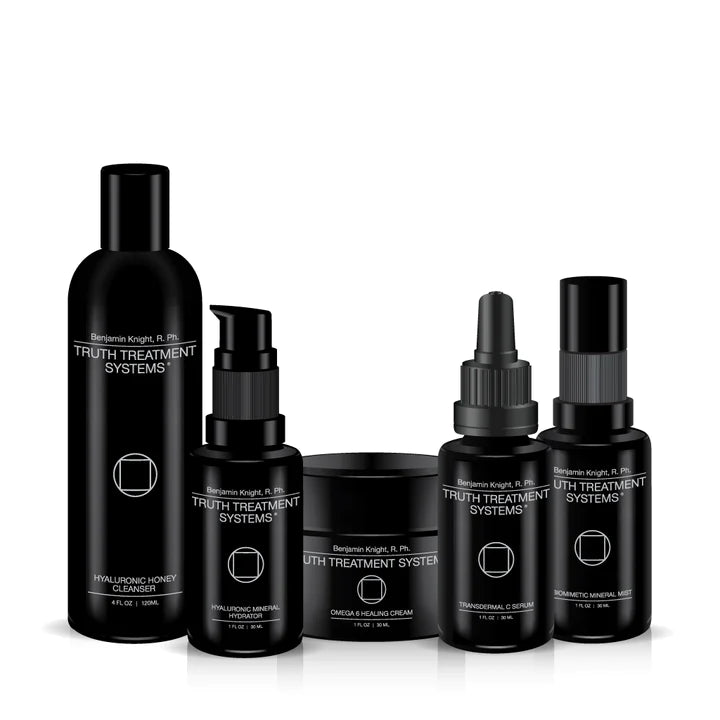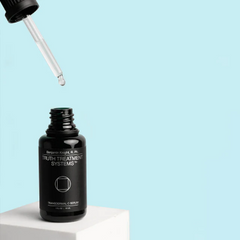 Formulated with Premium Vitamin C Scientifically Proven to Get Results
Formulated with an intensely high dose of stable, lipophilic Vitamin C, this
particular form is clinically proven to boost the skin's production of Natural
Moisture Factors and help reverse the signs of aging. Antioxidant protection
prevents future damage from free radicals and UV radiation.