Regular price
Sale price
$99.00 USD
Unit price
per
Sale
Sold out
FREE Biomimetic Mineral Mist with purchase of a 10ml or 30ml Transdermal C Serum!
Transdermal Vitamin C Serum is the MUST-HAVE anti-aging formula.

We've formulated the BEST Vitamin C serum on the market with an extremely high dose of stable, lipophilic Vitamin C, proven to boost the production of natural moisture factors at the cellular level and help reverse the signs of aging. Our unique formula features our patented Transdermal Delivery Matrix to penetrate deep into the dermis where collagen and elastin are produced.
This is the most concentrated tetrahexyldecyl ascorbate serum available. Premium fat-soluble Vitamin C, anti-inflammatory plant extracts and nutrients help repair damaged skin, fade dark spots, improve skin firmness and even skin tone. Boosted with skin barrier-building cholesterol and fatty acids, this serum corrects damage and repairs the skin barrier.

Biomimetic Mineral Mist is a 100% active hydrating mist that contains a potent fulvic mineral solution for proven anti-inflammatory, anti-microbial, and antioxidant effects. This electrically active mineral solution has a unique capacity for penetration, delivering its benefits deep into skin tissues and into the cells themselves. When used with other Truth Treatments, Truth Biomimetic Mineral Mist facilitates application and improves the efficacy and cellular absorption of Vitamin C, Retinol and other active ingredients in Truth Treatments.
Ideal for: All skin types
Features & Benefits
Supports collagen and elastin production, giving skin a firmer, plumper and lifted appearance

Boosts skin's production of Natural Moisture Factors for increased hydration and moisturization

Diminishes the appearance of dark spots and hyperpigmentation while helping to prevent new ones from forming

Provides antioxidant protection to prevent future damage from free radicals and UV radiation.




Helps reduce redness and blotchiness

Visibly lightens and brightens complexion
Directions:
In the palm of your hand mix 2 to 3 drops of Transdermal C Serum with 2 to 3 pumps of Biomimetic Mineral Mist. Gently massage into freshly cleansed skin to enhance penetration. Use morning and evening. 
Transdermal C Serum Ingredients:
Tetrahexydecyl Ascorbate (Vitamin C), C12-14 Alkyl Benzoate, C10-30 Cholesterol/Lanesterol Esters, Alpha Bisobolol (from Chamomile), Stearyl Glycyrrhetinate (from Licorice Root)
Biomimetic Mineral Mist Ingredients:
Fulvic & Colloidal Mineral Solution*, Amino Acid Solution**, Hyaluronic Acid, Sodium Lactate.

*(Antimony, Barium, Beryllium, Bismuth, Boron, Calcium, Carbon, Cerium, Cesium, Chloride, Chromium, Cobalt, Copper, Dysprosium, Erbium, Europium, Fluorine, Gadolinium, Gallium, Germanium, Gold, Hafnium, Holmium, Indium, Iodine, Iridium, Iron, Lanthanum, Lithium, Lutetium, Magnesium, Manganese, Molybdenum, Neodymium, Nickel, Niobium, Osmium, Palladium, Phosphorus, Platinum, Potassium, Praseodymium, Rhenium, Rhodium, Rubidium, Ruthenium, Samarium, Selenium, Silicon, Silver, Sodium, Silver, Strontium, Sulfur, Tantalum, Terbium, Thallium, Thorium, Thulium, Tin, Titanium, Tungsten, Ytterbium, Yttrium, Zinc, Zirconium)

**(Arginine, Aspartic Acid, Glycine, Alanine, Serine, Valine, Proline, Threonine, Isoleucine Histidine, Phenylalanine).
View full details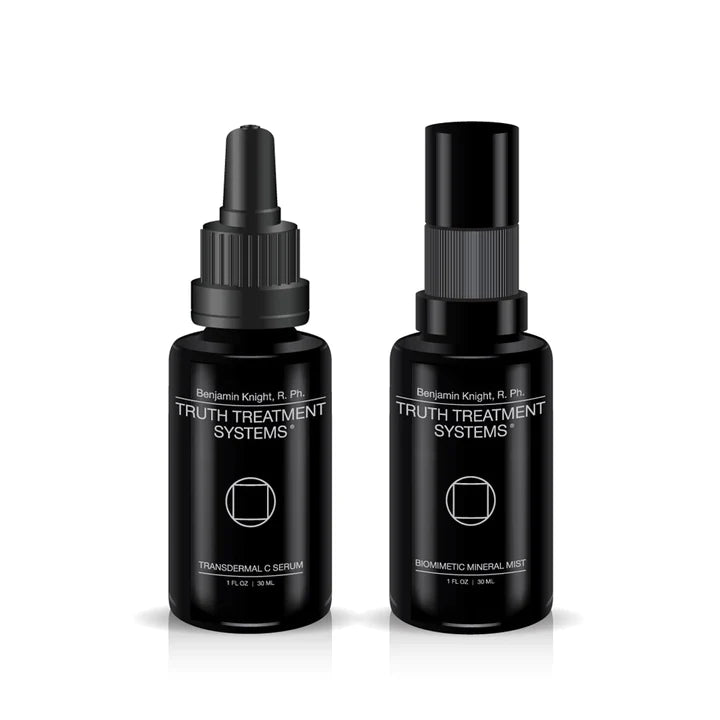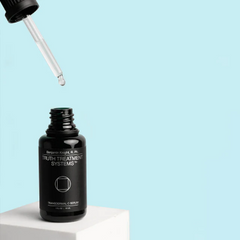 Formulated with Premium Vitamin C Scientifically Proven to Get Results
Formulated with an intensely high dose of stable, lipophilic Vitamin C, this
particular form is clinically proven to boost the skin's production of Natural
Moisture Factors and help reverse the signs of aging. Antioxidant protection
prevents future damage from free radicals and UV radiation.